Boost Your Productivity and Drive Your Business!
Automated scheduling of critical business processes
A provider of highly customized solutions that maximize the functionality of your Sage 300
Perform hundreds of operations at once
PEACE OF MIND WITH INTEGRITY CHECKING AND ERROR NOTIFICATION

Process Scheduler enables you to schedule when your Sage 300 (Accpac) data is checked and backed up.
All schedules are tracked, and a history of the scheduled actions - success or failure - can be reported on at any time. It maximizes system resource usage by allowing you to automatically perform tasks overnight, when the system is not otherwise being used. Checking the integrity of your Sage 300 data and running processes on a regular basis has never been easier!
Set up multiple Schedules as recurring jobs.
Define logic to specify what happens next on success and failure of a task.
Define email templates to be used when sending status emails from Schedules.
Allows you to make use of the flexible scheduling capability of Windows Task Scheduler
Developed in the Sage 300 SDK: Consistent Sage 300 look and feel; installs as a standard Sage 300 module; standard Sage 300 security, customization capabilities, data integrity checking and more
Ability to send emails via SSL.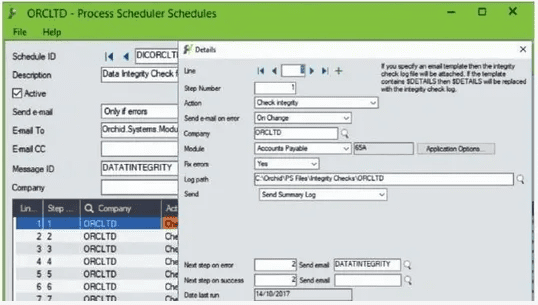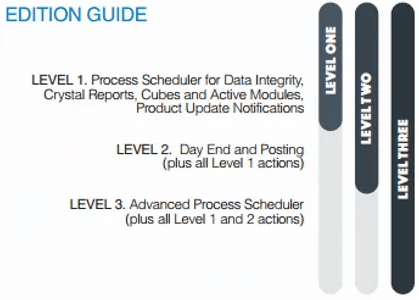 System integrity: your data is being checked on a regular, recurring basis.
Improved data security: automate backups through Sage 300's DBDump utility.
Save time: automating important routine processes.
Efficient use of resources: run day end, post batches and run custom processes overnight.
Easy to use: create and run complex schedules with no programming.
Easy to learn: with the familiar look and feel of a Sage 300 module.
YOUR ULTIMATE SOLUTION FOR SOFTWARE DEVELOPMENT
SYSTRONICS products are packaged and sold similar to Sage 300 core modules. All Products on regular intervals to maintain compatibility with Sage 300 versions, in addition to introducing enhanced functionality.

AR-AP Settlements
BACCPAC
Cashflow Forecasting
CashWorks
Field Extender
Intercompany Utilities
PJC Security
Revenues and Expenses Referrals Amortizes expenses
Subledger Reconciliation Toolset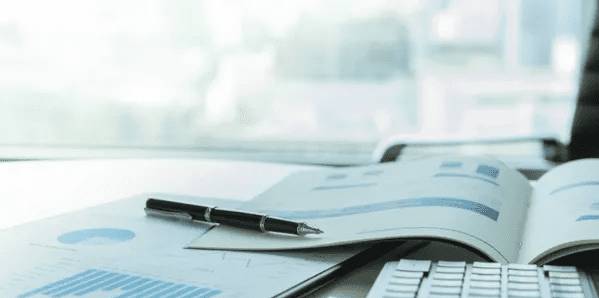 Settles outstanding transactions in A/R and A/P.
Settles A/R Customers and A/P Vendors in multiple currencies.
Allows distribution of settlement amount over multiple documents.
Synchronized data across multiple Sage 300 companies.
Reduced manual entry and human errors.
Prevents users from inquiring restricted information on the screens.
Increased transparency and real-time disclosure.
Reconciles transactions posted to a Shipment/Payables Clearing accounts in G/L with respective transactions in OE/PO.
Reconciles transactions posted to a Receivables/Payable Control and Prepayment accounts in G/L with respective transactions in AR/AP.
Enables single click access to websites and external file servers from inside Sage 300.
Tairox products address the needs of Sage 300 implementation with lots of companies, lots of transactions or large databases. If your company uses Sage 300 and it fits into any of these 3 categories, Tairox products could be a fit for you!
TaiRox Productivity Tools for Sage 300
General Ledger Tools
Accounts Receivable Tools
Accounts Payable Tools
Order Entry Tools
Purchase Order Tools
Inventory Control Tools