PREPARE YOUR BUSINESS FOR GROWTH TODAY WITH SAGE 300 CLOUD
User Passwords Are More Secure
Sage 300 is more secure; there is now only one option to require complex passwords on the Sage 300 database setup's advanced security settings screen.
Passwords now need to have at least one of each of the following; an uppercase letter, a lowercase letter, a number, and a special character.
The Sage Knowledge article explains how to update your system if you need complex passwords and you use Sage Fixed Assets integrated with Sage 300.
Improved Overall Security to System and Databases
Sage 300's Windows Start Menu has been improved; there are now three menus: Sage 300, Sage 300 Admin Utilities, and Sage 300 Support Utilities.
You may use functions like data activation, license manager, and current users via the Sage 300 Admin Utilities menu without opening Sage 300.
Sage 300 2023 should be installed after uninstalling Sage 300 2022 for the maximum use of the enhanced start menu. The start menu will display both the old and new menus if you don't do this.
New Project and Job Casting Web Screens
Account Sets: can create groups of general ledger accounts using the account sets, then assign the contracts to specify which general ledger accounts you should use to publish project and job casting transactions for each contract.
Charges: utilize this screen to keep track of the amounts you invoice your clients for services or other fees even though you did not directly incur those costs (such as registration fee or project repayments).
Update Retainage: Retainer accounting users should use this screen to enter opening retainage balances for contracts they are moving from another job-costing system to Sage 300 Project and Job Costing. Additionally, you can update the retainage payable or retainage receivable for contracts, projects, and categories using this screen.
Setup repots are now available in web screens for the following Sage 300Cloud applications:
Accounts payable
Accounts receivable
General ledger
Tax services
Bank services
Inventory control
Order entry
Purchase orders
Project and job casting
The option to install Sage 300Cloud web screens that you can use in a web browser, is included in this release.
CRM Integration Improvements
You can now insert up to 60 characters in the Sage CRM Server Name box on the E/W Sage CRM Setup page.
If Sage CRM and Sage 300 are integrated, you can choose whether and how to update data in Sage CRM if the customer contact name changes (on the Contact tab of the A/R Customers page).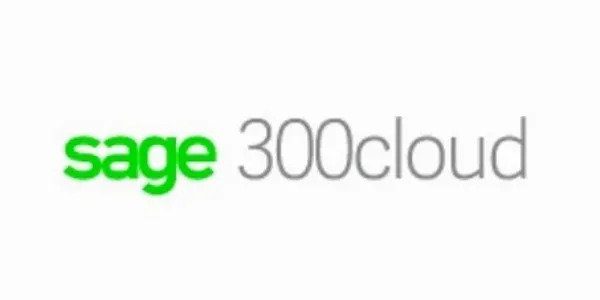 Business Management Software
Fuel your growth using Sage 300 (formerly Sage ERP Accpac), and get intelligent insights into your business using simple management tools. Empower your users with rich connected services and the flexibility to access information anywhere, anytime you need it. Designed from the ground up to meet the demanding needs of diverse business environments, Sage 300 gives you the flexibility to select from a robust suite of modules and to seamlessly connect with additional services in the cloud.
Looking to improve efficiency or effectiveness in your manufacturing, distribution, or retail business? Sage 300cloud takes the complexity out of managing your business finances across borders in multiple currencies and locations.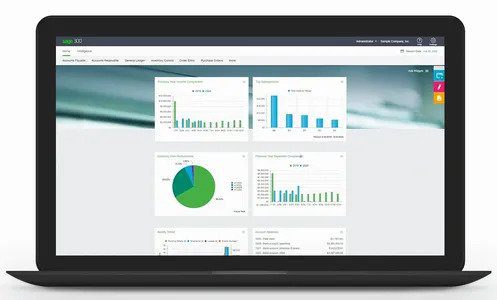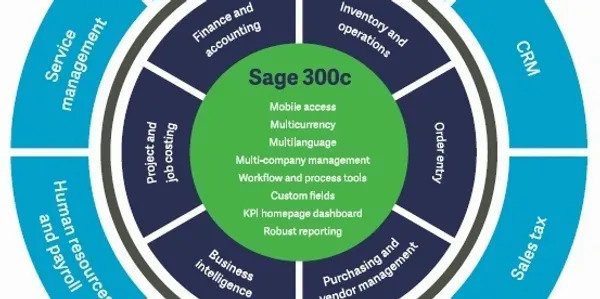 Prepare your business for growth
Sage 300cloud on-premise software can help prepare your business for growth. You'll love how easy it is to manage your accounting, inventory, operations, distribution, and more.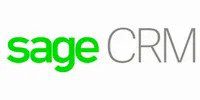 SAGE 300CLOUD 2022 IS HERE!
Accounting and Financial Management
Slash the time and cost of complex accounting and financial processes and redirect those resources toward growing your business. Sage ERP 300 ERP Accounting and Financial Management integrates your sales and service functions for streamlined, end-to-end financial management. Powerful, flexible tools improve financial reporting and compliance and provide better business intelligence for a greater ROI.
Operations and Distribution Management
Optimize operations and distribution processes to eliminate waste and deliver on time―every time. Accelerate growth, enhance customer satisfaction and improve your bottom line. Sage 300 ERP Operations and Distribution Management software ensures your business follows best practices for efficiency and accuracy by automating and integrating processes to keep your warehouse, inventory, production, and service departments aligned and running smoothly.
Services and Project Management
Ensure optimal performance of your services, maintenance and project management processes at virtually any touchpoint. Make smarter, faster service and support decisions that exceed customer expectations with Sage 300 ERP Services and Project Management. Get the visibility and intelligence you need into all information and key performance indicators to effectively allocate resources, increase customer uptime, and enhance productivity across all business systems.
Gain time, money and control with automated in-house payroll processing. If you're using a service bureau for payroll processing, there's a better way. Cut your costs and maintain absolute control over your payroll with in-house payroll processing through Sage 300 ERP Payroll. Easily handle any payroll function from basic to specialized, including all pay frequencies and earnings, multiple locations and currencies, taxes and reporting, benefits, and more.
Multi-Company and Global Operations Management
Easily manage global commerce across multiple companies or subsidiaries. No matter where you do business, maximize your international insight, and exchange information worldwide with Sage 300 ERP Multi-Company and Global Operations Management. Enhanced visibility into business metrics provides critical information at your fingertips for easier, smarter daily and long-term planning, providing the vision you need to respond to business trends while minimizing risk and maximizing the effectiveness of your decisions. Set up multiple companies in one or more databases, run processes, close books, and report results by company or in a consolidated company.
Business Intelligence and Reporting
Make smarter, more confident business decisions faster than ever before. Transform disparate data into meaningful information using flexible and powerful Sage 300 ERP Intelligence Reporting. With this low-cost, quickly deployed solution, you can build custom reports and get an accurate analysis. Alerts and Workflow will empower you to identify issues quickly and take timely action. With the right BI tools, you and your team will be able to see the improvements in your business.
CONTACT US TO LEARN MORE!